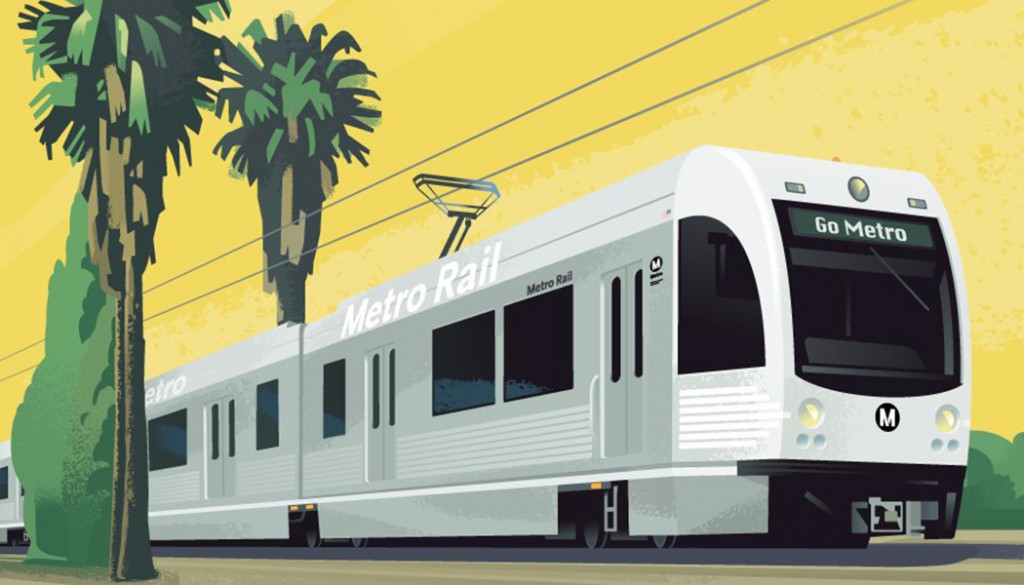 ---
What better way to open up the LA Streetcar blog than with the endorsement of a ballot initiative that will fundamentally transform how Angelenos get around our city?
At the polls this November 8th—or at this very moment, if you're a mail-in voter—city residents have a decision to make about the future of Los Angeles. The Measure M sales tax increase and extension will invest billions in our transportation network for decades to come, enabling more of us to move throughout the region quickly, safely, healthfully, and with far less congestion-related stress. And, notably, the LA Streetcar is one small (but important!) part of the many projects to be funded if the initiative passes. All for about $25 per household each year.
The proceeds of Measure M would be spent on numerous projects and transportation modes, from the expansion of rail lines and bus routes, to highway improvements, to active transportation investments in pedestrian and bicycle infrastructure. Twenty percent will be used to fund increased Metro service throughout the county, and nearly as much will be returned to cities to spend on their own local priorities. You can see the detailed spending breakdown below:
---
---
So what does this all mean for LA County? Well, first and foremost it means that Angelenos will have many more alternatives to sitting around in traffic to get from point A to point B. You could sit on the 10 on your way home, stuck behind thousands of other cars, or you can just ride the Expo Line in your own right-of-way. You can drive to Beverly Hills, or you can take the 720 bus down the Wilshire transit-only lane, bypassing most traffic—and, eventually, you can just hop on the Purple Line subway. You can drive to the corner store or local restaurant, or you can take a leisurely walk along new sidewalks or a safe, comfortable bike ride on protected bike lanes. Or if you're downtown you can take the streetcar, of course.
Like the streetcar, the Measure M investments made by Metro will improve mobility and economic outcomes for the city. It will increase opportunity for the hundreds of thousands of car-free and car-lite households in our region, allowing them access to jobs, education, and daily needs without the use of a car, saving them time as well as money. With the passage of Measure M, far more of our residents will be able to make similar choices, regardless of their income.
Los Angeles is also in the midst of a massive housing affordability crisis, and Measure M can help us resolve it: New rail and bus rapid transit (BRT) stations give a focus for new housing development, rather than allowing it to spread unevenly throughout lower-density communities. On top of that, Metro has a new policy requiring at least 35 percent of units built on its land be reserved for low-income households. The streetcar team, like Metro, understands that transportation and housing affordability are deeply intertwined. We're excited that these new transit investments, should they pass, will also further the goal of affordable housing for all.
Below you can find a map of the full rail network, should Measure M pass. You can also find a great animated GIF at Curbed LA that compares the current build-out to what we'll have in the future. It'll blow your mind, promise.
---
---
Measure M is about charting a new course for the way our city grows and our people get around. So is the LA Streetcar. It's about a proactive and hopeful vision for the future, and hopefully it's just the beginning. (We've gotta connect the west side of DTLA to the future Gateway Cities rail line, after all!) But to pass, Measure M will need a full two-thirds of voters to support it—that means we need everyone to get out there and show their support. Yes, you!
If you're still unsure, feel free to contact us here at LA Streetcar, or you can visit the official campaign website at VoteYesOnM.org. See you at the polls!