Streetcar will promote revitalization
Despite a decade of unprecedented positive growth, there are still areas around Downtown that require a bit more attention.
Boosting development along the route
Pedestrian circulation is proven to drive urban revitalization, redevelopment, and economic growth around the world. Here is what the Streetcar will do.
There are two main reasons why the Streetcar holds such an enormous potential to reactivate historic buildings and redevelop underutilized parcels:
The increase in real estate value tends to encourage property owners to realize additional revenue by developing, enhancing, and promoting the general "sprucing up" of their buildings. In turn attracting new business, and new customers.
The more eyes on the street, the more economically viable ground level spaces become. We consider revamped storefronts the the bow tie of urban aesthetic. Just the finishing touch to an already handsome city.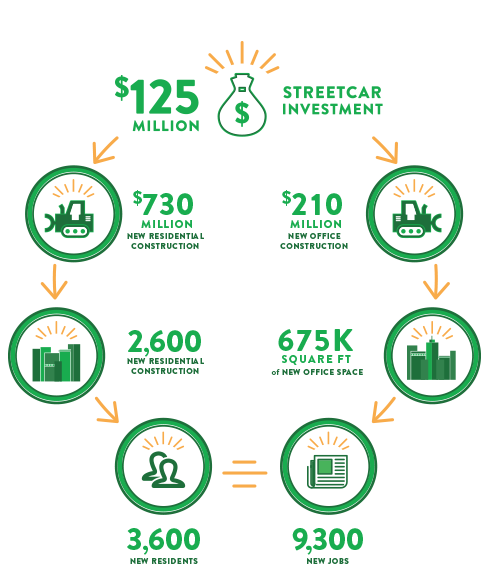 ---
The positive impact of the Streetcar
Spending: The increased connectivity and access provided by the Streetcar will generate approximately $24.5 million in new spending on retail, food, beverage, entertainment, and hospitality services per year.*
Development: A dependable streetcar system will assure investors that their investments have permanent access to public transit and a steady flow of patrons and tenants. This will lead to an estimated $1.1 billion in new Downtown residential construction, housing units, and office spaces.*
Revenue: Thanks to increases in retail sales, food and beverage purchases, hotel bookings, and property value, the city will collect around $47 million in new revenue over 30 years.*
Jobs: 9,300 jobs will be created across all sectors including the construction and operations of the Streetcar, new offices, and residential buildings.
Communities around the country are already seeing the benefits of their investment in a streetcar, with significant mixed-use development within a few blocks of their streetcar systems. Much of this development was propelled by the level of pedestrian and retail activity that the streetcars generated throughout the day and night.
---